Welcome to the Treasure Planet Wiki
Edit
Treasure Planet is a 2002 Walt Disney film. A Sci-Fi adaptation and retelling of Robert Luise Stevenson's Treasure Island. The story has ignited the imagination of a whole generation with it's memorable characters and enchanting setting. This Wiki is devoted to this film, and it's related productions. Anyone who has been inspired is welcome to join in our endeavor here. So ship out, and come on! The entire galaxy awaits!
For a full list of this wikis content, please visit our Index page.
(Index has not been updated in a long time, instead one should consult the content category)

Latest activity
Edit
Photos and videos are a great way to add visuals to your wiki. Find videos about your topic by exploring Wikia's Video Library.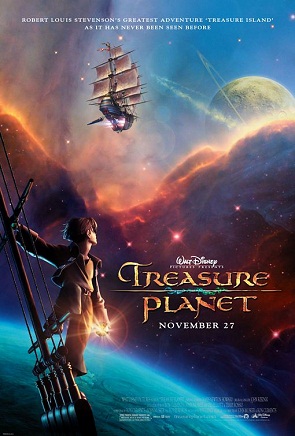 Ad blocker interference detected!
Wikia is a free-to-use site that makes money from advertising. We have a modified experience for viewers using ad blockers

Wikia is not accessible if you've made further modifications. Remove the custom ad blocker rule(s) and the page will load as expected.