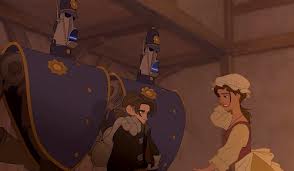 Robots
, also known as Metalmen are mechanical beings. They serve to function in a variaty of roles with in society.
Bio-Electronic Navigators (BENs) are robots designed for engineering, spotting, and navigation duties aboard ships. They are a centuries-old model that can be found among Imperial, Procyon, and pirate fleets.

Battle Utilized Bots (BUBs) are Imperial robots used primarily for gunnery and combat. Though like the B.E.N. series, they can also serve as Engineers.

Cop-bots are, as their name suggests, law enforcement units equipped with treads for fast pursuit.
XLRs are combat robots built exclusively by the Procyons. With some models being equipped with built-in flamethrowers.

Rig-Techs
Edit
Little is known about these robots that were cut from Battle at Procyon. However their designation as "rigtechs" hints that they would have been used as riggers.

Ad blocker interference detected!
Wikia is a free-to-use site that makes money from advertising. We have a modified experience for viewers using ad blockers

Wikia is not accessible if you've made further modifications. Remove the custom ad blocker rule(s) and the page will load as expected.