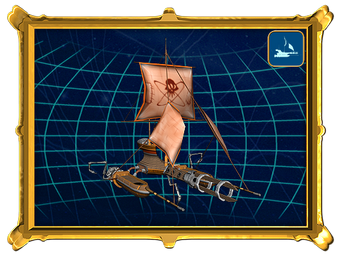 The news that this advanced Procyon strike ship was now in the hands of Pirates came as a shock to Naval Intelligence. Unlike most Pirate conversions, there seems to be little difference between it and the original Procyon ship, but given the abilities of this ship, that is not surprising.
Battle at Procyon Statistics
Edit
Point Cost: 24 VP
Speed: 43 km/h
Maneuverability: Very High
Crew Size: Very Small (5)
1 Captain
1 Rigger
3 Gunners
Hull Strength: 520 HP
Firepower: Good (3 Banks)
Known Ships
Edit
High Calibre (Mission 11)
The Punchy Poe (Mission 11)
The Ball N Chain (Mission 11)
Dead Eye (Mission 11)
The Angry Imp (Mission 11)
Lok N Load (Mission 11)
The Raven (Mission 11)
Divine Wind (Mission 11)
Ad blocker interference detected!
Wikia is a free-to-use site that makes money from advertising. We have a modified experience for viewers using ad blockers

Wikia is not accessible if you've made further modifications. Remove the custom ad blocker rule(s) and the page will load as expected.