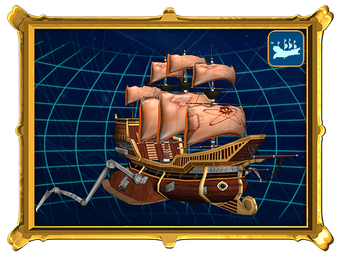 Huge and with a daunting amount of weaponry on board, the
Pirate
Galleon is one of the most powerful warships to ever sail the
Etherium
. In addition to her massive broadsiding capabilities, the Galleon can also grapple other ships, and unload a huge complement of sword-weilding boarders. The only dowside to this monser is her very slow speed, and vulnerabilitiy to
Torpedoes
and
Mines
, but her incredible durability allows her to survive long enough to pound her enemies into scrap.
Battle at Procyon Statisitcs
Edit
Point Cost: 230 VP
Speed: 15 km/h
Maneuverability: Very Low
Crew Size: Very Large (36)
1 Captain
1 First Mate
1 Spotter
1 Helmsman
2 Engineers
8 Riggers
12 Fighters
10 Gunners
Hull Strength: 6980 HP
Firepower: Very Good (10 Banks)
Known Ships
Edit
The Lord of Loot (Mission 11)
Ad blocker interference detected!
Wikia is a free-to-use site that makes money from advertising. We have a modified experience for viewers using ad blockers

Wikia is not accessible if you've made further modifications. Remove the custom ad blocker rule(s) and the page will load as expected.