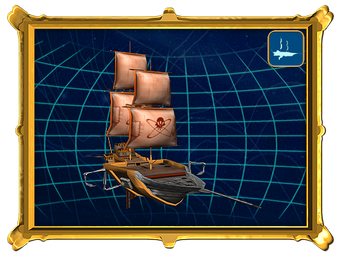 In a daring raid on the Mason Naval Shipyard,
Pirates
stole several of the
Navy's
new
Assault Cutters
. Now rumored to be in production at secret bases, the Pirate version of the Assault Cutter is slightly faster with a larger number of light gun mounts.
Battle at Procyon Statistics
Edit
Point Cost: 68 VP
Speed: 28 km/h
Maneuverability: Good
Crew Size: Average (14)
1 Captain
1 First Mate
1 Helmsman
2 Riggers
4 Fighters
5 Gunners
Hull Strength: 1320 HP
Firepower: Good (5 Banks)
Known Ships
Edit
Dark Night (Mission 4)
Luckless (Mission 6)
Spite (Mission 6)
Relentless (Mission 10)
The Rake (Mission 10)
Starfall (Mission 11)
Ravage (Mission 11)
Tormentor (Locusts game files)
Ad blocker interference detected!
Wikia is a free-to-use site that makes money from advertising. We have a modified experience for viewers using ad blockers

Wikia is not accessible if you've made further modifications. Remove the custom ad blocker rule(s) and the page will load as expected.