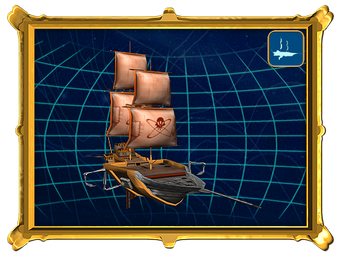 In a daring raid on the Mason Naval Shipyard,
Pirates
stole several of the
Navy's
new
Assault Cutters
. Now rumoured to be in production at secret bases, the Pirate version of the Assault Cutter is slightly faster with a larger number of light gun mounts.
Battle at Procyon Statistics
Edit
Point Cost: 68 VP
Mass: 6,000
Max Thrust: 16,000
Max Speed: 28 km/h
True Speed Value: 7.777778
Manoeuvrability: Good
Max Angular Acceleration: 2.436940
Crew Size: 14 (incorrectly says 15 in game)
1 Captain
1 First Mate
1 Helmsman
2 Riggers
4 Fighters
5 Gunners
Hull Strength: 1,320 HP
Firepower: Good (5 Banks)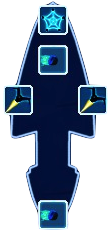 1 Energy Net Launcher


8 Light Carronades


4 Harpoon Guns


1 Medium Point Defence Lancer
Battle Strategy
Edit
Open Skirmish Names
Edit
Backstab
Happy Delivery
Kaiser Max
Exile
Gorgon
Gangster of Pain
Flaming Rose
De Drasse
Furious
Gift
Hudson Rex
Helena
Known Ships
Edit
Dark Night (Mission 4)
Luckless (Mission 6)
Spite (Mission 6)
Relentless (Mission 10)
The Rake (Mission 10)
Starfall (Mission 11)
Ravage (Mission 11)
Every single open skirmish name has been reused from other pirate vessels, more than likely due to time constraints.