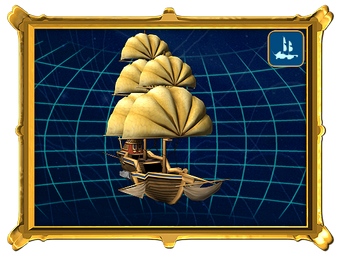 This two-masted attack vessel is the light workhorse of the Royal Navy and uses its point defense Lancers to provide anti-Torpedo and Mine coverage for larger ships. The Cutter has adequate firepower and is quite maneuverable.
Battle at Procyon Statistics
Edit
Point Cost: 58 VP
Crew Size: Small (11)
1 Captain
1 First Mate
1 Helmsman
1 Engineer
2 Riggers
1 Fighter
4 Gunners
Speed: 29km/h
Maneuverability: High
Hull Strength: 960 HP
Firepower: Average (4 Banks)
Known Ships
Edit
RLS Starburst (tutorial)
RLS Fury (tutorial)
RLS Manchester (Mission 4)
RLS Swiftsure (Mission 4)
RLS Valiant (Mission 5)
RLS Summerside (Mission 6)
RLS Star Finder (Mission 7)
RLS Prospect (Mission 7)
RLS Wilby Daniels (Mission 12)
RLS Eglantine Price (Mission 12)
RLS Reliant (Mission 12)
RLS Dirk (Bayles Stand game files)
RLS Raleigh (The Maw game files)
Ad blocker interference detected!
Wikia is a free-to-use site that makes money from advertising. We have a modified experience for viewers using ad blockers

Wikia is not accessible if you've made further modifications. Remove the custom ad blocker rule(s) and the page will load as expected.