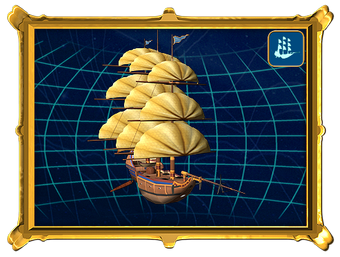 The Heavy Scout ship is based on the obsolete Discovery Class Frigate hull. While most of these ships were sold to private citizens, a few of the hulls were converted into scout command ships. While not up to par of modern
Frigates
, it has good speed and range, and the communication gear needed to keep in touch with
Sloops
on patrol.
Battle at Procyon Statistics
Edit
Point Cost: 94 VP
Speed: 25 km/h
Maneuverability: Good
Crew Size: Large (17)
1 Captain
1 First Mate
1 Spotter
1 Helmsman
1 Engineer
3 Riggers
3 Fighters
6 Gunners
Hull Strength: 1660 HP
Firepower: Good (6 Banks)
The game file for the Heavy Scout is titled "Ship_Navy_Legacy", potentially referencing the RLS Legacy from Treasure Planet, which is quite similar in appearance.
Ad blocker interference detected!
Wikia is a free-to-use site that makes money from advertising. We have a modified experience for viewers using ad blockers

Wikia is not accessible if you've made further modifications. Remove the custom ad blocker rule(s) and the page will load as expected.