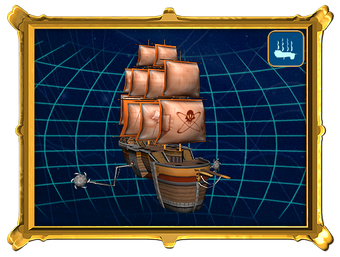 Another design unique to the Pirates, the Carrack is impressively armed ship with good speed delivered by a forward engine section in the bow. The Carrack is almost the Equal to the Naval Frigate, and makes up for a slight lack in durability with increased speed. Carracks are designed to pursue, and capture all but the largest ships.
Battle at Procyon Statistics
Edit
Point Cost: 120 VP
Speed: 22 km/h
Maneuverability: Average
Crew Size: Large (21)
1 Captain
1 First Mate
1 Spotter
1 Helmsman
1 Engineer
4 Riggers
5 Fighters
6 Gunners
Hull Strength: 2810 HP
Firepower: Very Good (6 Banks)
Known Ships
Edit
Plunder (Mission 10)
The Unforgiven (Mission 11)
The Jolly Robert (Mission 12)
Black Edward (Mission 12)
The Lucky Mare (Ambush game files)
The Saucy Lamb (Storm Front game files)
Frake's Fortune (Locusts game files)
Mary (The Maw game files)
Ad blocker interference detected!
Wikia is a free-to-use site that makes money from advertising. We have a modified experience for viewers using ad blockers

Wikia is not accessible if you've made further modifications. Remove the custom ad blocker rule(s) and the page will load as expected.