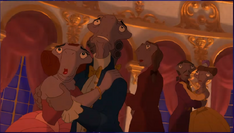 "You can be the Commander of many ships, but you can't be their captain." - Old Arcturian saying [1]
The Arcturians are an amphibian race of frog people who largely deal in Arcturian Solar Crystals, needed on Light Ships to store solar energy, shipping the crystals in large Merchantships. The Arcturians are a populous race, maybe even the most common in the galaxy. In the opening of the film, they can be seen crewing, and as passengers, of the Great Merchantship that falls victim to Captain Nathaniel Flint. The Arcturians also invented the Arcturian Fire Launcher, an inexpensive heavy weapon for use on ships.
Jeff is the most common first name among the species.
Notable Arcturians
Edit
Crew Icons
Edit
Generic Arcturians are voiced by Dee Bradley Baker.
Her Majesty's Royal Navy Cadet Manual page 11